CLOSE YOUR STORAGE UNIT DOOR – HOW TO PUT YOUR LOCK ON
Mohala Johnson
July 14th, 2019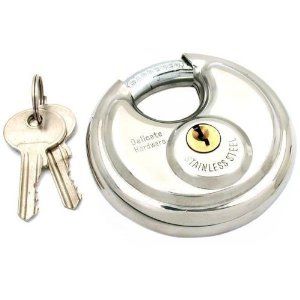 Being able to properly secure your storage unit is very important. With this in mind let's go over how to ensure your storage unit is secured and locked correctly.
THE PROBLEM: LOCKS ARE DIFFICULT TO PUT ON
The latch on storage unit doors 
looks 
closed and then the lock is applied; however, in reality, the latch is not in the correct position and the door has just been locked 
open. 
THE SOLUTION: WE'LL SHOW YOU HOW IT'S DONE
Follow these 3 steps to ensure your storage unit door is closed and locked upright. We've included some visuals to help make the process a bit easier. Please keep in mind that not all storage unit doors are identical but the process to secure the door is. Should you need further assistance please be sure to call us anytime at our 800 number ( 1-800-773-6691) our Reservation Center is open 7 days a week.
HOW TO SECURE YOUR STORAGE UNIT DOOR AND APPLY YOUR LOCK.
Be sure you are always stepping on the bottom of your storage door, Not roughly but just enough to ensure the door is all the way down. By doing this you are ensuring the door is shut completely for the latch to line up with the door frame.

Slide the latch towards the door frame. In the image below it is to the right. You will always slide the latch towards the wall/ doorframe. if your door lock lines up to the wall on the left side then you would slide towards the left. Always slide the latch towards the wall; this is where it will connect and secure your storage unit. Make sure the holes in the latch line up. If you look at the latch from the side the two pieces should be flush with one another, from the top you should be able to see through both holes.

Now you're ready to put the lock on. Just slide it into either hole and you're set. If you are unsure you can ask the Property Manager to come and double check your handiwork. Or go ahead and try and open your door. If it opens, remove your lock and try again.
We hope these three steps are easy to follow and the visuals we've provided helped to clarify any questions or concerns you might've had. If not, send us a message or call us anytime. To see all the steps in order view the below slideshow
If you're in the Covington, LA area be sure to stop by we've got a large selection of unit sizes sure to meet any and all of your self storage needs. You can also call us anytime: 
985.243.4260
Or stop by: 20317 Highway 36, Covington, LA 70433
---