STORAGE FOR KITCHEN ORGANIZING
Mohala Johnson
April 17th, 2023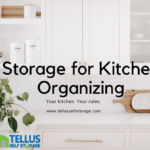 The kitchen is the heart of the home, but it can also be one of the most cluttered and disorganized spaces. Finding enough storage space for everything from pots and pans to small appliances and pantry items can be challenging. That's where a storage unit comes in handy. This blog will discuss how using a storage unit can benefit your kitchen.
First and foremost, a storage unit provides extra space for your kitchen items. This is especially helpful if you have a small kitchen or limited storage space. By renting a storage unit, you can keep your kitchen items organized and easily accessible. You can store everything from seasonal items, like holiday dishes and decorations, to rarely used appliances, like a bread maker or ice cream machine.
Another benefit of using a storage unit for your kitchen is that it can help you save money. Renting a larger home or apartment to accommodate all kitchen items can be expensive. By renting a storage unit, you can save on rent and use the extra space for other purposes, such as expanding your business or hiring more staff.
A storage unit can also provide added security for your kitchen items. Most storage facilities have security measures, such as surveillance cameras and gated access, to keep items safe and secure. Knowing that your valuable kitchen items are protected can give you peace of mind. In addition to storing kitchen items, a storage unit can be used as a workspace.
Some storage units are climate-controlled and have electricity, making them an excellent option for setting up a workspace. This can be especially helpful if you run a home-based food business or need a space to prep for a significant event or party.
Finally, a storage unit can provide flexibility for activities such as remodeling. A storage unit can get all of the clutter out of the way to make remodeling easier.
TELLUS SELF STORAGE – MCINNIS
---